More great stuff to share . . .
By now most of you know that I have quite the obsession with photography.
I hardly ever leave home without a camera. My children have all learned not to wince and complain when I say let's take pictures. Our extended family knows they can count on me to bring the camera to any family gathering.
Photos are all around our house. In frames, propped up against the wall, in scrapbooks, in home decor. I love to decorate using the faces and places of people and things I love!
I recently discovered Willette Designs, a great site with lots and lots of goodies for photographers, and for regular folks like me who just love a great photo!
Willette Designs offers freebies for Photoshop Actions, photo ideas, templates and a load of other great stuff. They also sell a phenomenal posing guide and host photography workshops geared towards moms like you and me.
I encourage you to check out their site . . . spend some time clicking around. Download some freebies and maybe even purchase a posing guide or join a workshop!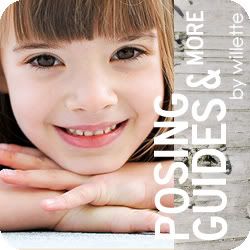 Enjoy!!!